Sunbird's SPM Trade-In Offer Has Expired! For sales questions, please contact sales@sunbirddcim.com.
Sunbird's ServerTech Sentry Power Manager (SPM) trade-in program gives SPM users the chance to experience the power, environmental, and energy management capabilities of Sunbird's Power IQ® Data Center Infrastructure Management (DCIM) Monitoring software. Get the data center business intelligence you need to maintain uptime, boost productivity, optimize capacity, and drive cost savings.
Power IQ supports the full family of ServerTech PDUs as well as over 50 other manufacturers out-of-the-box, no additional configuration required. Get up and running today with customizable dashboards, high-resolution floor maps with cabinet-level alerts and support for facility equipment monitoring (CRACs, UPSs, Floor PDUs, RPPs, Meters, Branch Circuits, Racks, Rack PDUs, Environment Sensors, IT Devices, and Electronic Door Locks), and patented ASHRAE® psychrometric cooling charts in an elegant, modern UI, PLUS seamless integration with Sunbird's dcTrack® DCIM Operations tool.
Trade in your SPM licenses today to get started with DCIM that's fast, easy, and complete.
---
How Sunbird's ServerTech SPM Trade-In Program Works
For a limited time, existing ServerTech customers can "trade in" their Sentry Power Manager licenses for Power IQ licenses. For each of your current SPM licenses, Sunbird will provide an equivalent Power IQ license. On top of FREE Power IQ licenses, new Power IQ customers who take advantage of this offer will get FREE maintenance support for one year, starting on the date of deployment.
To take advantage of this special offer, follow three easy steps:
1. Take a screenshot of SPM GUI with your license count.

2. Email your screenshot to sales@sunbirddcim.com with the subject "SPM Trade In".

3. In the email, specify the Company Name and Key Contact Name, Email, and Phone Number.
Sunbird will verify and email the Power IQ licenses files and Support Portal login information to the key contact email. Once you have activated your Support Portal account, you'll be able to download Power IQ from the portal immediately.
Ready to Trade Up to Power IQ?
Get Sunbird's solution today!
---
Why Power IQ DCIM Monitoring?
Power IQ® DCIM Monitoring enables you to monitor and report on
energy usage and environmental conditions in your data center: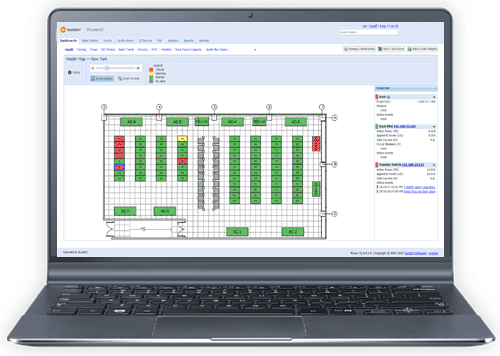 Find stranded capacity

Generate energy cost reports for customers

Gracefully shutdown Operating Systems

Easily identify active power, energy, cost, and environmental trends

View powerful cooling charts

Measure PUE (Power Usage Effectiveness) and drive green data center initiatives
And since Power IQ DCIM Monitoring works with the full family of ServerTech PDUs,
you can use it with your existing infrastructure!



"The largest improvement that I see is being able to monitor power usage in our lab and making sure that our PDUs don't get overloaded. We've gone through a few retirement phases and we can track that with the graphs in the PIQ software — we see the power usage going down. Being able to see the temperature throughout our lab is also pivotal. "
Kiel Anderson | Senior Lab Network Engineer | F5 Networks
Combine Power IQ Data Center Monitoring with dcTrack Operations Management
for the Ultimate DCIM Software Solution.
Watch the three-minute video now!
With Sunbird's proven dcTrack® DCIM Operations software solution, data center managers and operators can manage data center assets, capacity, and change easier, faster, and with more accuracy than ever before. Sunbird's award-winning DCIM software provides significant efficiency and cost-savings by removing the disarray and inaccuracy of multiple Microsoft® Excel and Visio files and introducing a web-based tool driven by a central configuration management database.
Quickly visualize your data center floor plan and rack elevations and see important information including available space and power capacity per rack

Instantly get real-time accurate views of all server rack equipment and see available space, power, copper and fiber ports, budgeted power, heat output, rack PDU details and branch circuit feeds

Instantly get a real-time view of data center health, environment and power utilization with built in Dashboards and visual analytics

Track all physical power and data connectivity between all devices in the data center

Make planning a chore of the past with automated and intelligent search parameters for space, power and data connectivity

Compare Actual and Budgeted power to find stranded power capacity and optmize power usage
---


Sunbird Wins Best User Satisfaction on Gartner Peer Reviews!

---
Frequently Asked Questions
What is Sunbird's ServerTech Sentry Power Manager trade-in program?
Sunbird's ServerTech SPM trade-in program enables current SPM customers to use Power IQ in their own data center environments. Simply let us know how many SPM licenses you have, and we'll give you the equivalent number of Power IQ licenses, plus a full year of maintenance—free of charge!
What is Power IQ?
Sunbird's power, energy and environment monitoring tool, Power IQ® (PIQ) software, provides the information and controls you need to fully utilize your existing infrastructure resources while alerting you to trouble before problems cause downtime. Securely keep tabs on all your Data Centers and Labs with monitoring of your CRACs, UPSs, PDUs, RPPs, Meters, Branch Circuits, Rack PDUs, and Environment Sensors, and Electronic Door Locks—all from a single web browser.
Want to learn more? Download the Power IQ datasheet here.
Who is eligible to participate in Sunbird's ServerTech Sentry Power Manager trade-in program?
New Power IQ customers are eligible to participate in Sunbird's ServerTech Sentry Power Manager trade in program. Existing dcTrack customers who are SPM users but do not currently have Power IQ also are eligible to participate.
What can I monitor with Power IQ?
In addition to the full line of ServerTech PDUs, Power IQ enables you to monitor CRACs, UPSs, Floor PDUs, RPPs, Meters, Branch Circuits, Racks, Rack PDUs, Environment Sensors, IT Devices, and Electronic Door Locks. Sunbird's best-in-class multivendor support means you can choose the devices that best fit your data center environment and manage them all through a single web browser UI.
Which vendors does Power IQ support?
Sunbird supports products from over 50 manufacturers either natively or via dynamic plugin, without the need to purchase additional modules. Click here for the full list of manufacturers or visit Sunbird's Add-Ons site, where over 100 plugins can be downloaded or requested free of charge.
What are "equivalent" Power IQ licenses?
The number of licenses are based on the number and type of the facility items managed in Power IQ. Sunbird will determine the equivalent number of licenses based on your current SPM license count.
What is included with maintenance support?
We provide a variety of resources to assist our customers and partners in configuring, installing, maintaining and upgrading our products. Customers on maintenance receive software support services and access to the Sunbird support portal to open and track support tickets, get access to chat support, software downloads, models library updates, upgrade files, technical FAQs, product documentation, important technical bulletins, community forums, new feature requests, and Sunbird technical support contacts.
How long is the Sentry Power Manager trade-in offer available?
The SPM trade-in program runs through June 30, 2018.
Who can I contact for more information?
For more information, contact sales@sunbirddcim.com.
Join the 1000+ companies using Sunbird's DCIM software.
Get your FREE Power IQ licenses today!
Companies Already Trusting Sunbird's DCIM Solution