7 Proven Tips for Success!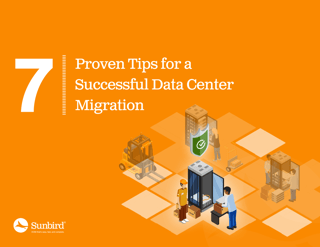 Many data centre teams try to mitigate some of the risks and avoid unwelcome surprises of data center moves through detailed planning and following best practices. However, even with these efforts, data centre migrations are so complex that some things still fall through the cracks. In this eBook, we've compiled a list of proven tips based on our experiences and those of our customers when dealing with data centre moves to help data centre managers tackle often-overlooked challenges and see success—before, during, and after the move.
Download Your Free eBook Now!
---


Reduce Risks and Accelerate Your Colo Migration
with DCIM Operations Software
With Sunbird's dcTrack® DCIM Operations software solution, you can manage data centre assets, capacity, and changes easier, faster, and with more accuracy than ever before. New features in Sunbird's award-winning DCIM software provide the capabilities you need to successfully manage modern data centre moves and new environments.
Ensure asset inventory record accuracy with a single source of truth

Identify the status of assets and connectivity to stay on top of which assets are in place and which are still to be transitioned

Build 3D virtual floor maps to validate the network design as well as cabinet, power, and network layout

Accurately assess the net impact of additions and decommissions on your data centre capacity with what-if analysis

Manage connectivity and reduce missing or misused cabling issues faster and with fewer clicks with Sunbird's patent-pending Quick Connect feature, which makes connections for you based on start and end points

Validate, streamline, and simplify requests and work orders with change management automation and third-party ticketing system integration

Compare Actual and Budgeted space, power and network capacity to ensure the requirements of the devices that will be housed in your cabinets before the migration

Identify environmental trends and boost cooling efficiency with 3D floor map visualizations with time-lapse thermal and pressure maps

Explore data any way you want with over 75 out-of-the-box interactive reports

Gain data-driven insights and correlate disparate datasets via data centre business intelligence dashboards and visual analytics
Build a Virtual Data Model and Test Your Design
---
Sunbird Wins Best User Satisfaction on Gartner Peer Reviews!

Let us show you how easy moving to a colo can be with Sunbird's DCIM Software
Contact us today for a free demo!
Companies Already Trusting Sunbird's DCIM Solution